RASH

We believe breast milk is the best food for infants. When in consultation with their healthcare professional, mothers and families find that optimal breastfeeding is not possible due to their infant's medical condition, formulas for special medical purposes play a vital role in providing essential nutrients to infants. We have a global commitment to market breast-milk substitutes responsibly.
This website is about the management of cow's milk protein allergy and nutritional solutions intended for infants. By continuing on this website, you accept that Nestlé supplies the information at your own request.
Are you a healthcare professional or a parent ?
Rash is extremely common and perfectly normal in babies. A newborn's skin may go through a number of changes during the first four weeks of life and this is just a consequence of their sensitive skin adapting to a new and very different environment. Most of these changes are benign and self-limiting and will resolve without any need for treatment.1 Atopic dermatitis is a common rash also experienced by infants (see Atopic Dermatits), however atopic dermatitis usually occurs after being exposed to one or more allergens.
The most common rashes in newborns are transient vesiculopustular rashes that can be diagnosed clinically based on their distinctive appearances.1 These include:
Erythema toxicum neonatorum: the most common rash in newborns with an incidence of up to 70%2
Acne neonatorum: typically affects up to 20% of newborns1
Transient neonatal pustular melanosis: occur in 5% of black newborns vs. less than 1% of newborns3,4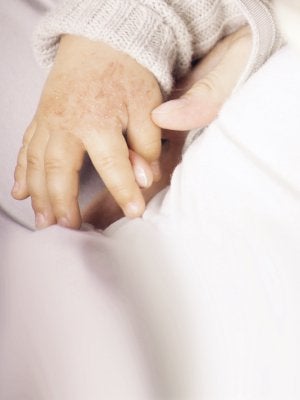 Other common rashes include:
Milia: occurs in up to 50% of newborns and usually disappear within the first month of life5
Miliaria (heat rash): affects up to 40% of newborns and usually appears during the first month of life6
Seborrheic dermatitis: extremely common and should not be confused with atopic dermatitis. It is characterised by erythema and greasy scales and commonly appears on the scalp, commonly known as "cradle cap", but may also appear on the face, ears, and neck7
What causes rash in infants?
Vesiculopustular rashes in the neonatal period are commonly caused by bacterial, fungal or viral infections, e.g. Staphylococcus aureus, Candida albicans, or the Herpes simplex virus respectively.3,8 Food allergies e.g. Cow's Milk Protein Allergy (CMPA) is also among the common causes of rash in infants.
Rash as a symptom of Cow's Milk Protein Allergy
Skin symptoms account for up to 70% of all symptoms of CMPA9 and atopic dermatitis is the most common rash observed in infants with CMPA.
Signs and symptoms related to CMPA
The majority of infants affected with CMPA have at least two symptoms affecting at least two different organ systems.10,11
Having an awareness of the most common symptoms of CMPA can help you to make an earlier diagnosis of CMPA in your patients.
The Cow's Milk-related Symptom Score (CoMiSS)® is a simple, fast and easy-to-use awareness tool designed to help you more easily recognise the signs and symptoms that can be cow's milk-related in infants and young children.
If you suspect your patient is suffering from symptoms that may be suggestive of CMPA, use the CoMiSS® tool to score and assess the likelihood of CMPA.
OTHER SYMPTOMS OF COW'S MILK PROTEIN ALLERGY
References
1. Connor NR. and McGaughlin MR. Am Fam Physician. 2008;77(1):56–60.
2. Liu C., et al. Dermatology. 2005;210(4):269–272.
3. Schachner L. and Press S. Pediatr Clin North Am. 1983;30(4):609–629
4. Laude TA. Approach to dermatologic disorders in black children. Semin Dermatol. 1995;14(1):15–20.
5. Paller A., et al. Clinical Pediatric Dermatology: A Textbook of Skin Disorders of Childhood and Adolescence. 3rd ed. 2006:737
6. Feng E., et al. Cutis. 1995;55(4):213–216
7. Janniger CK. Cutis. 1993;51(4):233–235
8. Van Praag MC., et al. Pediatr Dermatol. 1997;14(2):131–143
9. Koletzko S., et al. J Pediatr Gastroenterol Nutr. 2012;55(2):221–9
10. Lifschitz C. and Szajewska H. Eur J Pediatr. 2015;174:141–50
11. Høst A. Pediatr Allergy Immunol. 1994;5:1–36
IMPORTANT NOTICE: Mothers should be encouraged to continue breastfeeding even when their babies have cow's milk protein allergy. This usually requires qualified dietary counseling to completely exclude all sources of cow's milk protein from the mothers' diet. If a decision to use a special formula intended for infants is taken, it is important to follow the instructions on the label. Unboiled water, unboiled bottles or incorrect dilution can make babies ill. Incorrect storage, handling, preparation and feeding can eventually lead to adverse effects on the health of babies. Formula for special medical purposes intended for infants must be used under medical supervision.