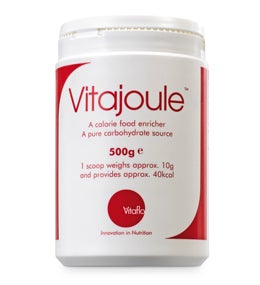 Vitajoule™
Vitajoule is a neutral‐tasting carbohydrate powder supplement. It can be added to a wide variety of food and drink to enhance the energy content with minimal effect on taste, volume and texture. 1 level scoop weighs approximately 10g of Vitajoule and provides approximately 38kcal. Suitable from birth.
Vitajoule is a food for special medical purposes and must be used under medical supervision.
Download the Vitajoule datacard
Vitaflo wish to inform you that, from May 2022, there will be a new scoop provided in the Vitajoule 500g tub. Please note that, just like the previous scoop, the new scoop will measure approximately 10g of Vitajoule which provides approx 38kcal. Please see the flyer for further information.
---
Read more about malnutrition in the following areas


The content you are trying to access is intended for Healthcare Professionals only.


Are you a healthcare professional?