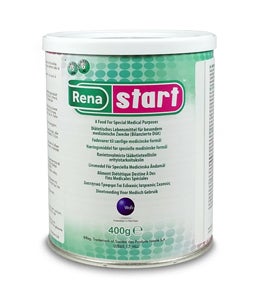 Renastart™
Renastart is a high energy powdered formula with low levels of protein, calcium, chloride, potassium, phosphorus and vitamin A, containing whey protein, amino acids, carbohydrate, fat, vitamins, minerals and trace elements and the long-chain polyunsaturated fatty acids (LCPs): Arachidonic acid (ARA) and Docosahexaenoic acid (DHA).
Renastart is a food for special medical purposes and must be used under strict medical supervision.
Download the Renastart datacard
---

The content you are trying to access is intended for Healthcare Professionals only.


Are you a healthcare professional?
The following content is restricted for patients only. You will be redirected.
You are being redirected to our patient section.