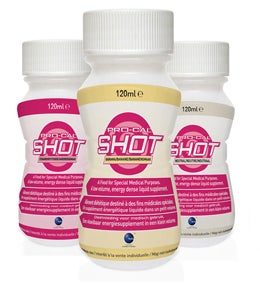 Pro-Cal shot®
Pro‐Cal shot  is a low volume, energy‐dense liquid supplement, available in neutral, strawberry and banana flavours, providing protein, fat and carbohydrate. With 30ml providing 100kcal & 2g of protein, it is an ideal choice to get a quick boost of calories and protein for patients who are struggling to meet energy requirement from normal diet or ONS alone.
Download the Pro-Cal shot datcard
Pro‐Cal shot is suitable from 3 years of age and for a wide number of conditions.
Pro‐Cal shot is a food for special medical purposes and must be used under medical supervision.Read more
---
Read more about malnutrition in the following areas


The content you are trying to access is intended for Healthcare Professionals only.


Are you a healthcare professional?