Boost® Banana Pudding Trifle
---
Serving Size: ½ cup
Calories: 270
Total Fat: 9g
Saturated Fat:  5g
Cholesterol: 5mg
Sodium: 200mg
Carbohydrates: 47g
Dietary Fiber: 2g
Sugars: 31g
Protein: 3g
BOOST PLUS® or BOOST® High Protein Drinks can also be used in this recipe. Nutritional profiles will change with product used.
---
1 – 3.4 oz box instant banana pudding mix
1- 8 fl oz bottle BOOST® Vanilla Drink
2 bananas, sliced
2 cups non-dairy whipped topping
25-30 vanilla wafers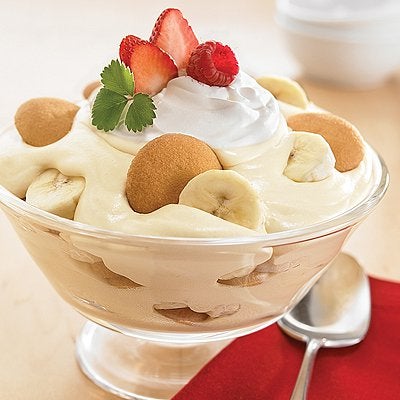 Instruction
Combine pudding mix and 
BOOST®
 Vanilla in a mixing bowl. Beat with wire whip or electric mixer for 1 minute; refrigerate for 1 hour. (Pudding will be thick but not firm.)
Fold 1 cup non-dairy whipped topping into the pudding.
Layer vanilla wafers along the bottom and up the sides of a 1½ quart glass serving bowl. Arrange half the sliced bananas over the wafers and top with pudding.
Arrange remaining bananas on top of pudding and garnish with dollops of whipped topping. Chill until ready to serve.