FLORHAM PARK, N.J. June 3, 2013 - Research shows that over 40% of adults do not meet the recommended daily intake for many vitamins and minerals through diet alone.1,2 For older adults in particular, getting the right nutrition each day can be a challenge. Nestlé Health Science understands the needs of seniors and has developed a nutrition bar to meet the specific nutritional needs of older adults to help them get the nutrients they may be missing. New BOOST® Nutrition Bars are hitting store shelves nationwide starting this spring.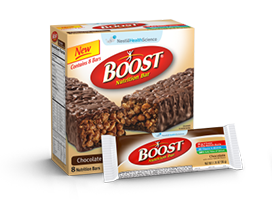 BOOST® Nutrition Bars, available in great-tasting Chocolate and Peanut Butter Chocolate flavors, contain 21 vitamins and minerals, including 50 percent of the daily value of calcium per serving and 11 grams of protein in the convenience of a bar. Protein is essential to help maintain muscle and calcium is a critical nutrient for bone health.
Unfortunately, inadequate intake of several essential nutrients is common in older adults.3 Getting adequate levels of nutrients can sometimes be a challenge for this population and BOOST® Nutrition Bars provide key nutrients the body needs, including protein to help maintain muscle and calcium for strong bones.  In addition, each bar contains 10% or more of the daily value of several vitamins and minerals that are shortfall nutrients for older adults, including calcium, magnesium, potassium, choline and vitamins A, E, and K.3  
"At Nestlé Health Science, we understand how important it is for older adults to get the nutrition they need," said Dr. Juan Ochoa, North American Medical Director for Nestlé Health Science. "Without good nutrition, they can be at risk of unintended weight loss that could interfere with physical abilities and is associated with increased health risks.  A nutritious snack like the BOOST® Nutrition Bar helps to fill in nutritional gaps."
BOOST® Nutrition Bars are meant to complement a healthy diet as a snack or mini meal. They are individually wrapped and ready to enjoy at home or on the go. BOOST® Bars are part of the comprehensive line of BOOST® nutritional products designed to meet a variety of nutrition and health needs.  BOOST® Nutrition Bars are available in retail stores nationwide along with BOOST® Original drink, BOOST® High Protein drink and powder, and BOOST Plus®, BOOST® Calorie Smart™, and BOOST Glucose Control® drinks. Look for BOOST® Bars next to BOOST® Nutritional Drinks in stores.
For nutrition and wellness tips plus hundreds of delicious recipes, visit www.boost.com.  
Stay Strong, Stay Active with BOOST™.
About Nestlé Health Science
Nestlé Health Science, a wholly-owned subsidiary of Nestlé, intends to spearhead the development of science-based personalized nutritional solutions. Building on its core HealthCare Nutrition business, the company has ambitions to address chronic conditions in the area of Gastrointestinal Health, Metabolic Health and Brain Health. Nestlé Health Science offers nutritional solutions for people with specific dietary needs related to illnesses, disease states or the special challenges of different life stages. Nestlé Health Science employs around 3,000 people worldwide and has its headquarters in Lutry, Switzerland.
References
1 The Report of the Dietary Guidelines Advisory Committee on Dietary Guidelines for Americans, 2005. Available from http://www.health.gov/DietaryGuidelines/dga2005/report.
2 Position of the American Dietetic Association: Nutrient Supplementation. J Am Diet Assoc 2009;109:2073-85.
3 USDA, ARS.2012.Nutrient Intakes from Food: What We Eat In America, NHANES 2009-2010; 2012; Available from: www.ars.usda.gov/ba/bhnrc/fsrg.