As the world's leading Nutrition, Health and Wellness company, Nestlé further strengthens its Nestlé Health Science business in Japan
Nestlé Japan Ltd. (headquarters in Kobe City, Hyogo Prefecture; Representative Director, President and CEO: Kozo Takaoka) supports the development and continued growth of the Nestlé Health Science business in Japan. To this end, it has established the Nestlé Health Science Manufacturing Plant inside its Kasumigaura Factory; it will start full-scale operation in June 2014.
With an increasingly aging society in Japan, the medical nutrition market has continued to expand. In this context, Nestlé Health Science has steadily increased its market penetration through selling medical nutrition solutions that are highly valued by healthcare professionals, patients and consumers. By starting our own production in Japan, we continue to invest in additional capabilities and production capacity to meet the increasing nutritional needs of an aging population in Japan.

Nestlé Health Science Company
Nestlé Health Science is a wholly-owned subsidiary of Nestlé Group, the world's leading nutrition, health and wellness company. With a combination health and nutritional science capabilities – Nestlé Health Science has an ever developing innovative portfolio of nutritional therapies, supported variously by proprietary diagnostics and devices, targeted towards the Vital Support areas of ageing and Critical/intensive care, as well as Gastrointestinal Health, Brain Health, Metabolic Health and Consumer Health, changing the way patients and healthcare professionals approach the management of health. In Japan, Nestlé Health Science (Company President: Akihiro Nakajima) offers nutritional solutions to meet the nutritional needs of people in medical institutions and nursing homes,and professionals involved in health care. the key brands sold in Japan include Isocal®, Resource®, and Peptamen®, which are used by people in hospitals and nursing homes across the country.
Main line-up of products made in the Kasumigaura Factory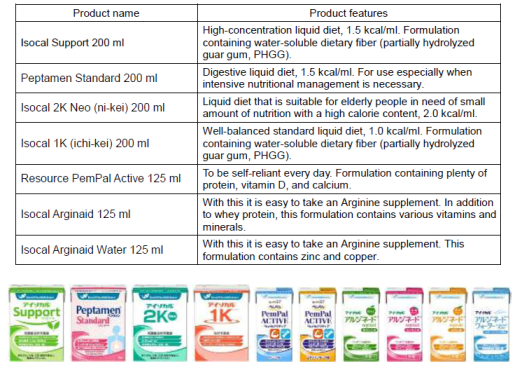 * Please visit the Nestlé Health Science website with products available in Japan.
http://www.nestlehealthscience.jp/products
Nestlé Health Science Heartful Care Program
This program supports family members and care givers who require special nutritional management approaches. Through its call center and website, it not only handles mail-order sales of nutritional solutions that are used in nursing homes and medical institutions but also provides information and services that can help with nutritional management at home.
Enquiries from the media should be directed to:
Nestlé Media Relations Office, Nestlé House, 7-1-15, Goko-dori, Chuo-ku, Kobe 651-0087
c/o Hosokawa or Kano
Enquiries from readers should be directed to:
Nestlé Health Science Heartful Care Program
Toll free: (+81) 0120-383-859
(Business hours: 10:00 - 17:00 every day except Saturdays, Sundays and national holidays)
https://shop.nestle.jp/front/contents/top/ 
English translation from Japanese original (www.nestle.co.jp)