Boost® Peach Perfection
---
Serving Size: 1 - 12 fl. oz serving
Calories: 340
Total Fat: 8g
Saturated Fat: 4g
Cholesterol: 25mg
Sodium: 180mg
Carbohydrates: 56g
Dietary Fiber: 4g
Sugars: 33g
Protein: 12g
BOOST PLUS® or BOOST® High Protein Drinks can also be used in this recipe. Nutritional profiles will change with product used.
---
1 – 8 fl oz bottle BOOST® Vanilla Drink
½ cup peaches, sliced
¼ cup vanilla ice cream or low-fat frozen yogurt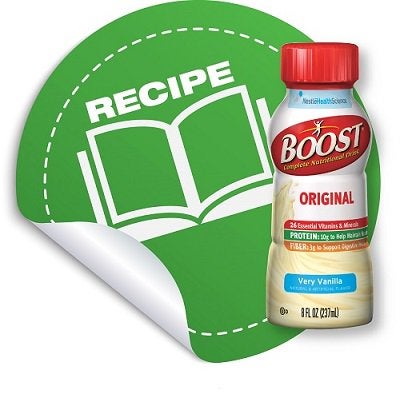 Instruction
Place all ingredients in a blender and mix until smooth. Serve immediately.