Boost® Holiday Bread Pudding
---
Serving Size: ½ cup 
Calories: 270
Total Fat: 4g
Saturated Fat: 1g
Cholesterol: 110mg
Sodium: 270mg
Carbohydrates: 52g
Dietary Fiber: 2g
Sugars: 23g
Protein: 8g
BOOST PLUS® or BOOST® High Protein Drinks can also be used in this recipe. Nutritional profiles will change with product used.
---
4 eggs
2¼ cups 
BOOST®
 Vanilla Drink
½ cup brown sugar
½ tsp cinnamon
½ tsp rum extract
4 cup dry bread cubes
⅓ cup dried cherries, cranberries or raisins
½ cup caramel topping for garnish, optional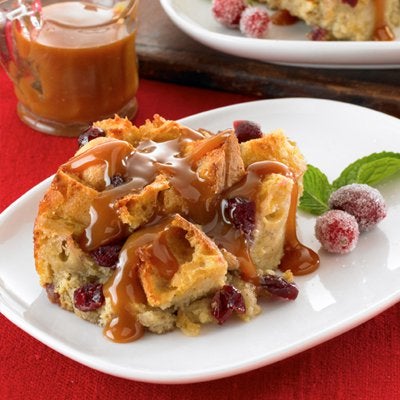 Instruction
Combine eggs, BOOST® Vanilla, brown sugar, cinnamon and rum extract in a mixing bowl; beat until smooth.

Place bread cubes in an ungreased 2-quart baking dish. Sprinkle dried fruit evenly over bread cubes. Pour egg mixture over bread.

Bake in a 350°F oven for 40-45 minutes or until a knife inserted in the center comes out clean. Cool for 5-10 minutes before cutting and serving.

Serve warm with caramel sauce, if desired.