Boost® Creamy Corn Chowder

---
Calories: 250
Total Fat: 7g
Saturated Fat: 1g
Cholesterol: 5mg
Sodium: 590mg
Carbohydrates: 43g
Dietary Fiber: 5g
Sugars: 12g
Protein: 9g
BOOST PLUS® or BOOST® High Protein Drinks can also be used in this recipe. Nutritional profiles will change with product used.
---
1 Tbsp. olive oil
1/2 cup diced onion
2 cups frozen corn (thawed)
1 cup fat-free, low-sodium chicken broth
1 cube chicken bouillon
1 - 8 fl. oz. bottle BOOST® Vanilla Drink
1/4 cup red bell pepper (diced)
1/2 tsp. dried rosemary
1 tsp. dried basil
1/4 tsp. salt
1/2 tsp. black pepper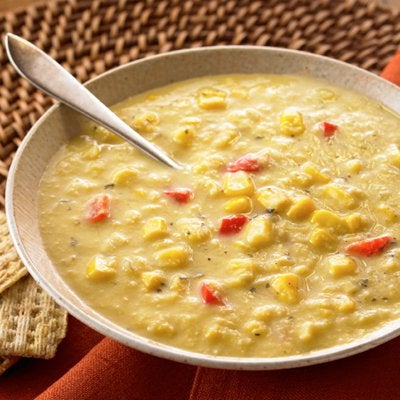 Instruction
1. Heat olive oil in saucepan over medium high heat. Add onion and cook until tender, about 5 minutes. 
2. Add 1 cup corn and cook for 5 minutes or until tender. 
3. Add chicken broth and bouillon cube. Return to slow boil; cook until corn is soft. 
4. Carefully pour corn mixture into blender or food processor and blend until smooth. 
5. Return to pan and add remaining 1 cup corn, BOOST® Vanilla, red bell pepper and dried rosemary. 
6. Cook, stirring frequently, until chowder is thick and red pepper is tender, about 5 minutes. 
7. Add salt, black pepper and basil to taste. 
8. Serve warm.