Boost® Cocoa Chiller
---
Serving Size: 1 - 8 fl. oz serving
Calories: 200
Total Fat: 5g
Saturated Fat: 3g
Cholesterol: 5mg
Sodium: 250mg
Carbohydrates: 36g
Dietary Fiber: 3g
Sugars: 22g
Protein: 6g
BOOST PLUS® or BOOST® High Protein Drinks can also be used in this recipe. Nutritional profiles will change with product used.
---
4 fl oz (½ bottle) BOOST® Chocolate Drink
½ cup ice cubes
1 - .71 oz packet Nestlé Rich Milk Chocolate hot cocoa mix
OPTIONAL: ½ tsp instant coffee (for a Mocha style beverage)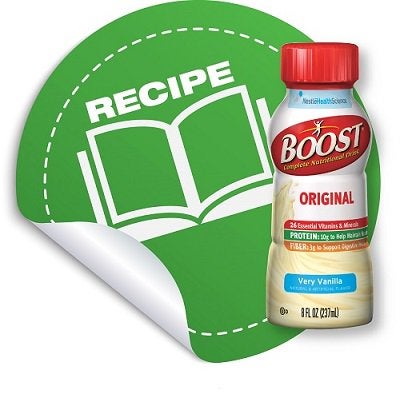 Instruction
Place all ingredients in a blender and mix until smooth. Serve immediately.