Boost® Cinnamon Apple French Toast
---
Serving Size: 1 - 4 oz slice
Calories: 440
Total Fat: 11g
Saturated Fat:  4g
Cholesterol: 225mg
Sodium: 560mg
Carbohydrates: 70g
Dietary Fiber: 5g
Sugars: 24g
Protein: 18g
BOOST PLUS® or BOOST® High Protein Drinks can also be used in this recipe. Nutritional profiles will change with product used.]
---
8 - 1 inch slices French bread
4 eggs
1 1/2 cups (1 1/2 bottles) BOOST® Vanilla Drink
1 Tbsp. sugar
1 1/2 tsp. vanilla
1/2 tsp. nutmeg
2 tart baking apples (peeled, cored and sliced)
1 Tbsp. butter (melted)
1 Tbsp. sugar
1 1/2 tsp. cinnamon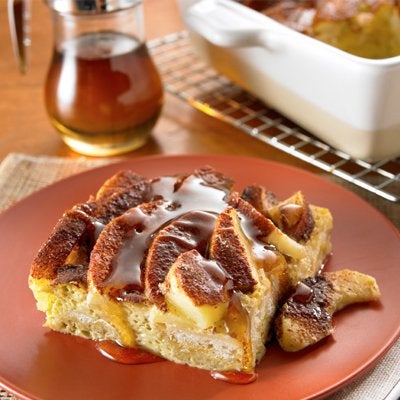 Instruction
1. Preheat oven to 450° F. 
2. Spray an 8" x 8" square pan with nonstick cooking spray. 
3. Arrange bread tightly in a single layer in bottom of pan. 
4. Combine eggs, BOOST® Vanilla, 1 Tbsp. sugar, vanilla and nutmeg in a mixing bowl; stir well. 
5. Pour half of the mixture over the bread. Layer apple slices over bread.
6. Pour remaining egg mixture over apples. Drizzle with melted butter.
7. Combine sugar and cinnamon; blend well. Sprinkle evenly over apples. 
8. Bake for 35-40 minutes or until knife inserted in the center comes out clean. 
9. Cool for 5 minutes before cutting and serving. Serve warm with maple syrup.