Boost® Cherry Cheesecake
---
Calories: 180
Total Fat: 5g
Saturated Fat: 1g
Cholesterol: 5mg
Sodium: 100mg
Carbohydrates: 28g
Dietary Fiber: 2g
Sugars: 16g
Protein: 6g
BOOST PLUS® or BOOST® High Protein Drinks can also be used in this recipe. Nutritional profiles will change with product used.
---
1 cup quick oats
3 Tbsp. cholesterol free vegetable oil spread (melted)
2 Tbsp. brown sugar
8 oz. fat free ricotta cheese
2/3 cup BOOST® Vanilla Drink
1/4 cup sugar
2 egg whites
2 Tbsp. all-purpose flour
1 tsp. vanilla extract
1 tsp. lemon or orange zest
Dash of cinnamon
1 1/2 cups light cherry pie filling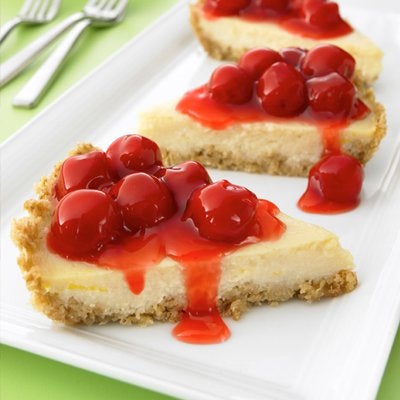 Instruction
1. Preheat oven to 325° F.
2. Prepare crust by combining oats, melted vegetable oil spread, and brown sugar in a mixing bowl. Stir well.
3. Press into bottom and up sides of an 8-inch pie pan. Bake at 325° F for 5-7 minutes or until lightly browned. Allow crust to cool before adding filling.
4. Combine all filling ingredients in a mixing bowl; stir until smooth. Pour into prepared crust.
5. Bake at 325° F for 35-40 minutes or until knife inserted in center comes out clean. Cool on wire rack.
6. Cover with plastic wrap and store in refrigerator until ready to serve.
7. Top cheesecake with light cherry pie filling prior to cutting and serving.
8. Cut into 8 pieces.