Boost® Carrot Oat Bran Muffins
---
Serving Size: 1 muffin
Calories: 70
Total Fat: 1g
Saturated Fat: 0g
Cholesterol: 20mg
Sodium: 170mg
Carbohydrates: 16g
Dietary Fiber: 1g
Sugars: 2g
Protein: 2g

BOOST PLUS® or BOOST® High Protein Drinks can also be used in this recipe. Nutritional profiles will change with product used.
---
¾ cup all-purpose flour
¾ cup oat bran cereal
1 tsp baking soda
1 tsp baking powder
1 tsp cinnamon
¼ tsp nutmeg
1 egg
½ cup raisins
⅓ cup BOOST® Vanilla Drink
1 ½ cups shredded carrot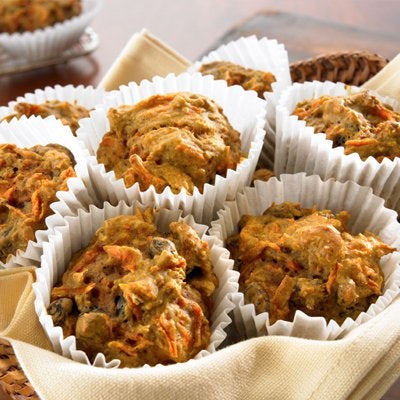 Instruction
Preheat oven to 350°F.
Combine flour, oat bran cereal, baking soda, baking powder, cinnamon and nutmeg in a mixing bowl.
Add egg, raisins, BOOST® Vanilla and carrots; stir well.
Spray muffin cups with nonstick cooking spray or line with paper baking cups.
Portion batter into muffin cups, filling each cup 2/3 full.
Bake at 350°F for 20 -25 minutes.
Serve warm or cool to room temperature.
Leftover muffins may be stored in an airtight container for up to 2 days.