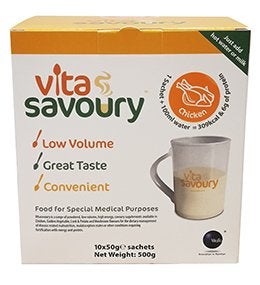 Vitasavoury
Vitasavoury is a range of powdered, low volume, high energy, and savoury oral nutritional supplements available in Chicken and Golden Vegetable flavours. Vitasavoury provides 300kcals and 6g of protein in a 50g sachet when made up with 100ml of warm water (final volume 150ml) and is an ideal alternative savoury option.
Vitasavoury is a food for special medical purposes and must be used under medical supervision.
Download the Vitasavoury datacard
---
Read more about malnutrition in the following areas


The content you are trying to access is intended for Healthcare Professionals only.


Are you a healthcare professional?