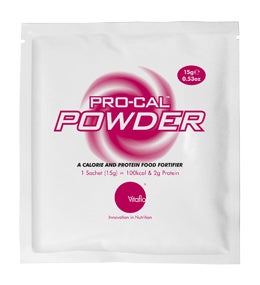 Pro-Cal®
Pro-Cal powder is a powdered, neutral-tasting food fortifier. A blend of protein, fat and carbohydrate, which can be added to a variety of food and drink to enhance the energy and protein content with minimal effect on taste, volume and texture.
Pro-Cal powder is suitable from 3 years of age.
Pro‐Cal powder is a food for special medical purposes and must be used under medical supervision.
Download the Pro-Cal powder datcard
---
Read more about malnutrition in the following areas


The content you are trying to access is intended for Healthcare Professionals only.


Are you a healthcare professional?