Boost® Rice Pudding
---
Calories: 270
Total Fat: 6g
Saturated Fat: 2g
Cholesterol: 5mg
Sodium: 220mg
Carbohydrates: 46g
Dietary Fiber: 2g
Sugars: 20g
Protein: 8g
BOOST PLUS® or BOOST® High Protein Drinks can also be used in this recipe. Nutritional profiles will change with product used.
---
1 - 4.1 oz. box rice pudding mix
1 - 8 fl oz. bottle BOOST® Vanilla Drink
1 cup milk
1 Tbsp. margarine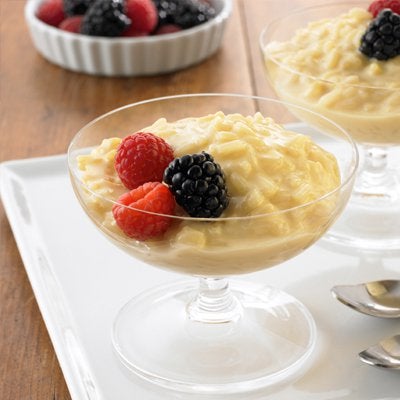 Instruction
1. Combine rice pudding mix, milk, BOOST® Vanilla and margarine in saucepan. Bring to a boil over medium-high heat, stirring frequently. Reduce heat to medium and simmer uncovered until sauce begins to thicken. Stir frequently to prevent scorching.
2. Remove from heat, cover and let stand 5 minutes. 
3. Serve warm or cold. Garnish with cinnamon or fresh fruit.