Boost® Refreshing Mocha Punch
---
Serving Size: 6 fl oz
Calories: 210
Total Fat: 9g
Saturated Fat: 5g
Cholesterol: 25mg
Sodium: 75mg
Carbohydrates: 27g
Dietary Fiber: 2g
Sugars: 21g
Protein: 6g
BOOST PLUS® or BOOST® High Protein Drinks can also be used in this recipe. Nutritional profiles will change with product used.
---
1 ½ cups (1½ bottles) BOOST® Vanilla Drink
2 cups double strength coffee, chilled
3 cups chocolate ice cream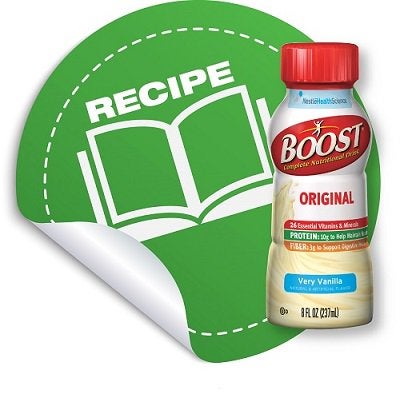 Instruction
Combine BOOST® and chilled coffee in a pitcher.
Pour half the mixture into a punch bowl and the other half into a blender.
Add chocolate ice cream; blend until smooth.
Pour ice cream mixture into punch bowl and stir well.
Portion into mugs or punch cups.
Garnish with whipped topping and chocolate curls, if desired.