Boost® Red, White And Blueberry Breakfast Bake
---
Calories: 420
Total Fat: 22g
Saturated Fat: 11g
Cholesterol: 325mg
Sodium: 480mg
Carbohydrates: 39g
Dietary Fiber: 3g
Sugars: 16g
Protein: 16g
BOOST PLUS® or BOOST® High Protein Drinks can also be used in this recipe. Nutritional profiles will change with product used.
---
1 cup strawberries (fresh or frozen (thawed and drained))
1 cup blueberries (fresh or frozen (thawed and drained))
8 slices white bread (cut into cubes)
2 Tbsp. sugar
1/2 tsp. cinnamon
1 - 8 oz. package cream cheese (cut into cubes)
1 1/2 cups (1 1/2 bottles) BOOST® Vanilla Drink
8 eggs
1 tsp. vanilla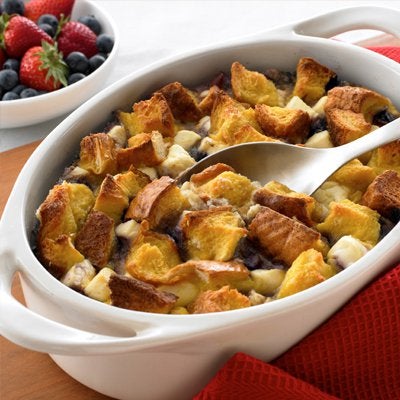 Instruction
1. Spray a 2-quart casserole dish with vegetable oil nonstick cooking spray. 
2. Evenly layer ½ of the bread cubes in dish. 
3. Combine berries, sugar and cinnamon in a bowl; stir until berries are evenly coated with sugar. Sprinkle berries over bread cubes.
4. Arrange cream cheese cubes over berries and top with remaining bread cubes. 
5. Combine BOOST® Vanilla, eggs and vanilla extract in a bowl; mix well. 
6. Pour over bread mixture in pan. Cover tightly with aluminum foil and refrigerate for 8 hours or overnight. 
7. Preheat oven to 350° F. Bake covered for 30 minutes; uncover and bake for an additional 30-35 minutes longer or until knife inserted in the center comes out clean. 
8. Cool for 5 minutes before cutting and serving. Serve warm. 

Serving Suggestion: Top with warm blueberry, strawberry, or maple syrup.