Boost® Orange Pineapple Cake
---
Calories: 310
Total Fat: 9g
Saturated Fat: 2g
Cholesterol: 35mg
Sodium: 320mg
Carbohydrates: 52g
Dietary Fiber: 1g
Sugars: 32g
Protein: 6g
BOOST PLUS® or BOOST® High Protein Drinks can also be used in this recipe. Nutritional profiles will change with product used.
---
1 - 18.25 oz. package yellow cake mix
1 1/2 cups (1 1/2 bottles) BOOST® Vanilla Drink
2 eggs
1 - 11 oz. can mandarin oranges (drained)
1 cup crushed pineapple (drained (juice reserved))
1/2 cup almonds
3/4 cup powdered sugar
Whipped topping (optional)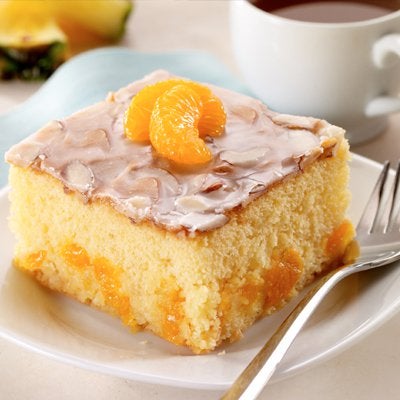 Instruction
Preheat oven to 350° F. 
Spray 9x13-inch pan with nonstick cooking spray. 
Combine cake mix, BOOST® Vanilla and eggs in a large mixing bowl. Beat with electric mixer on medium speed for 2 minutes. Stir in mandarin oranges and ½ cup pineapple. 
Pour batter into pan and sprinkle with almonds. 
Bake 35-40 minutes or until toothpick inserted in center comes out clean. Cool for 15 minutes. 
Combine powdered sugar and 2 tablespoons of the reserved pineapple juice in a small bowl; mix until smooth. Spread over warm cake. 
Cool completely before serving. 
Garnish each serving of cake with whipped topping, if desired.