Boost® Creamy Tomato Soup

---
Calories: 230
Total Fat: 4g
Saturated Fat: 1g
Cholesterol: 5mg
Sodium: 580mg
Carbohydrates: 41g
Dietary Fiber: 3g
Sugars: 22g
Protein: 7g
BOOST PLUS® or BOOST® High Protein Drinks can also be used in this recipe. Nutritional profiles will change with product used.
---
1 - 8 fl. oz. bottle BOOST® Vanilla Drink
1 - 10 3/4 oz. can low-sodium condensed tomato soup
1/3 cup water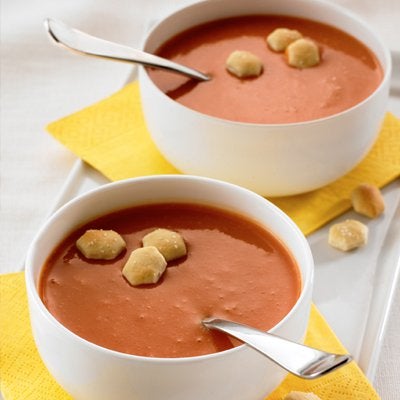 Instruction
1. Combine all ingredients in a saucepan; stir well. 
2. Heat soup until warm; do not boil. 
3. Pour hot soup into bowls and serve.