Boost® Blueberry Muffins
---
Serving Size: 1 muffin
Calories: 170
Total Fat: 6g
Saturated Fat: 1g
Cholesterol: 35mg
Sodium: 260mg
Carbohydrates: 26g
Dietary Fiber: 0g
Sugars: 13g
Protein: 4g
BOOST PLUS® or BOOST® High Protein Drinks can also be used in this recipe. Nutritional profiles will change with product used.
---
1 large egg 1 Tbsp. vegetable oil
1/3 cup BOOST® Vanilla Drink
1 - 6 1/2 oz. package blueberry muffin mix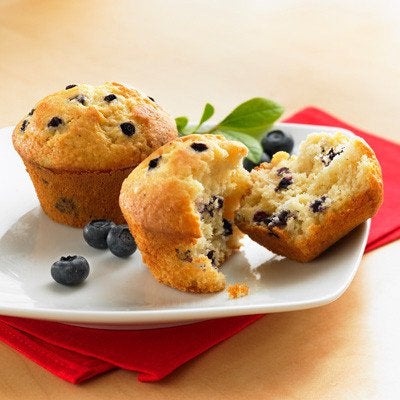 Instruction
1. Preheat oven to 375° F. 
2. Spray muffin cups with nonstick cooking spray or line with paper baking cups. 
3. Combine BOOST®, egg, oil and muffin mix; stir well. Batter will be slightly lumpy. 
4. Fill muffin cups ½ full. 
5. Bake 15-20 minutes or until golden brown.