Boost® Bacon Cheddar Quiche
---
Calories: 420
Total Fat: 26g,
Saturated Fat:  10g
Cholesterol: 145mg
 Sodium: 840mg
Carbohydrates: 29g 
Dietary Fiber: 2g
Sugars: 7g
Protein: 17g
BOOST PLUS® or BOOST® High Protein Drinks can also be used in this recipe. Nutritional profiles will change with product used.
---
1 unbaked, 9-inch deep-dish pie shell
10 crisp cooked strips bacon (crumbled)
2 green onions (sliced)
1 cup shredded cheddar cheese
1 1/2 cups (1 1/2 bottles) BOOST® Vanilla Drink
3 eggs
1/2 tsp. salt
1/4 tsp. black pepper
1/4 tsp. dry mustard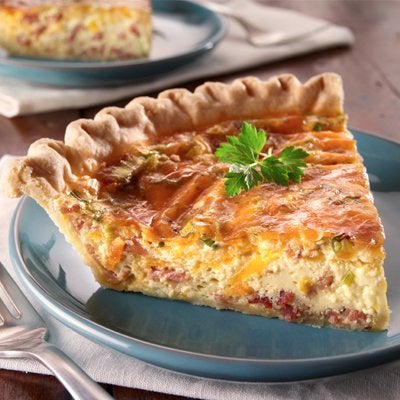 Instruction
1. Preheat oven to 350° F. 
2. Sprinkle bacon, green onions, and 1/2 cup cheddar cheese into pie shell. 
3. Whisk together BOOST® Vanilla, eggs, salt, pepper and mustard in a large bowl. Pour into pie shell. 
4. Sprinkle with remaining ½ cup cheese.
5. Bake 45-50 minutes or until knife inserted in center comes out clean. Cool for 10 minutes before cutting and serving.