The unique challenges of caring for a child with neurological impairment
Taking care of a child with a neurological disorder can be extremely stressful, from the observation of the first symptoms through the stages of diagnosis & testing to managing the different treatments in the day to day. At every step, nutrition is an important part of supporting your child's health and well being.
However, some neurological disorders cause gastrointestinal problems that affect the way your child eats and is nourished, including the ability to swallow, digest and absorb nutrients. Feeding your child can be very difficult, but we are here to help. Nestlé Health Science has developed solutions specifically designed to fulfill the needs of children with neurological disorders that affect gastro-intestinal functions.
Being a parent of a child with a neurological disorder can be extremely challenging. Feeding your child remains critically important but may be complicated by the impact of the neurological disorder on your child's gastro-intestinal system.
WHAT IS A NEUROLOGICAL IMPAIRMENT OR A NEUROLOGICAL DISORDER?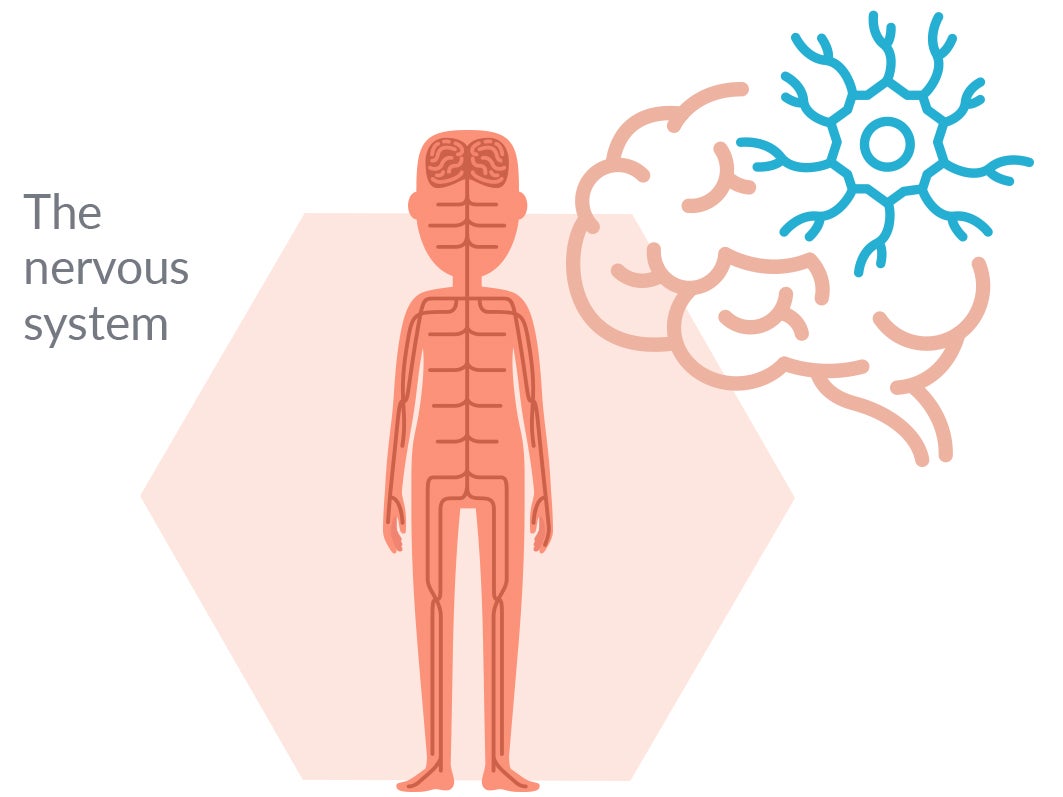 Neurological impairment relates to disorders of the nervous system, in other words a malfunctioning of the brain, spine, nerves or the connection between the muscles and the nerves. This may affect speech, motor skills, vision, memory, muscle actions, and learning abilities.1,2 Common paediatric neurological disorders or diseases include autism, epilepsy and cerebral palsy.3,4 Read more about cerebral palsy in our dedicated section.
What are common causes of neurological disorders?
Thanks to a better understanding of many neurological disorders, your healthcare professional may now give you a clearer explanation of what caused your child's condition, which may include genetic mutations, bacterial or viral infections, injuries, hypoxia or other problems that may have happened before, during or soon after birth.5

Neurologically impaired children are at high risk of malnutrition
Neurological impairments can be associated with several problems that directly or indirectly impact gastro-intestinal functions, such as:2
Dental issues – including instability of the jaw, poor lip tone and movement as well as problems with biting such as, tonic biting and overbiting
Posture issues like scoliosis, which can make it difficult to eat
Swallowing difficulties (also known as dysphagia) –your child takes more time and effort to move down food or liquids from the mouth to their stomach and can be combined with excessive saliva (or drooling), coughing, gurgly voice, wet breathing, coughing or vomiting up food, choking, difficulty chewing, excessive prolonged feeding times and changes in appetite
Gastro-oesophageal reflux disease (GORD) –the food is not digested properly and comes back into the oesophagus from the stomach
Constipation – less frequent bowel movements or stools difficult to pass
Diarrhoea – loose, watery stools for 3 or more times a day that could persist for a few days or weeks
Any of these problems increases the risk that your child may not get the appropriate nutrition he or she needs.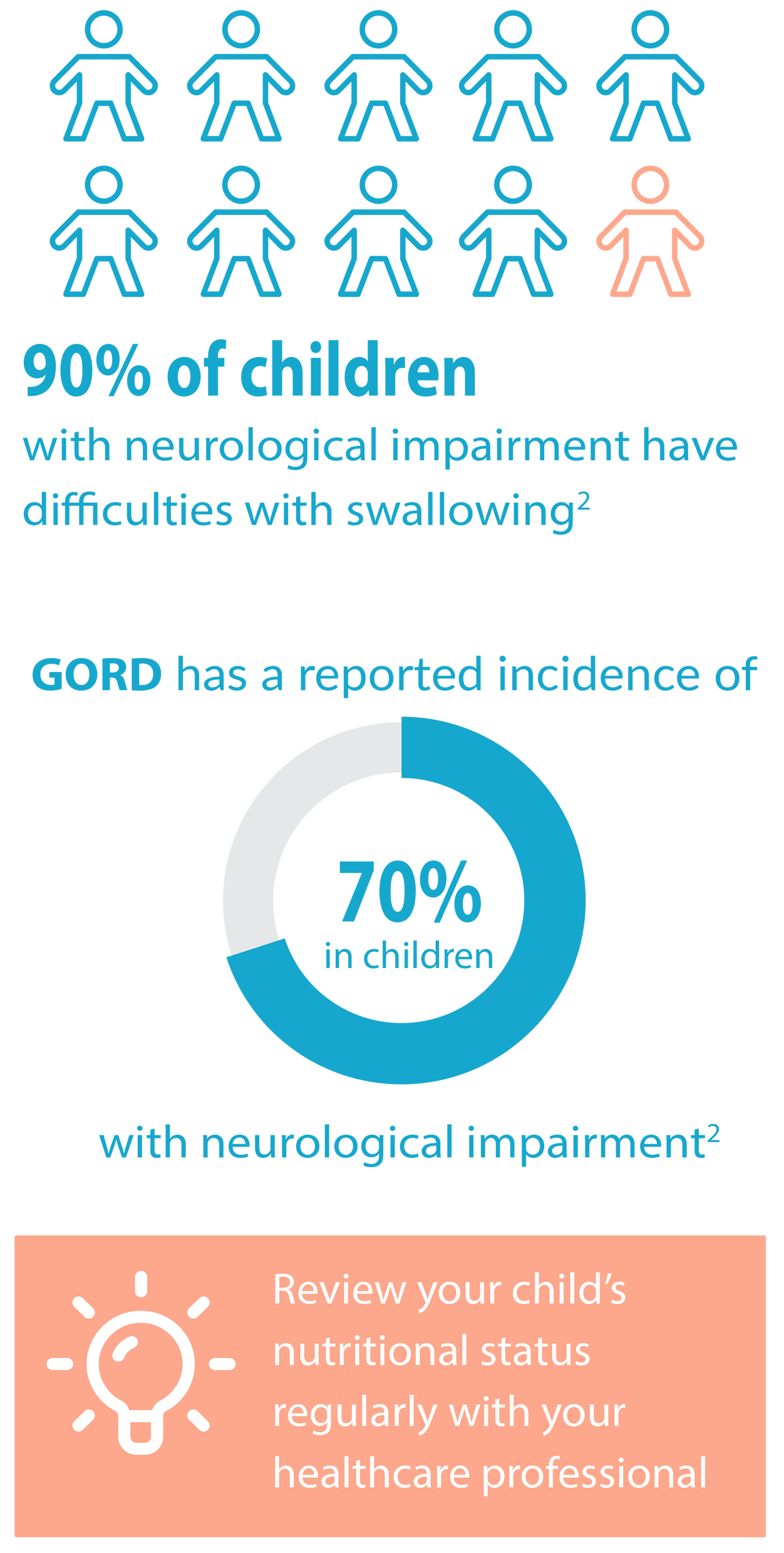 Nutritional solutions for children with neurological disorders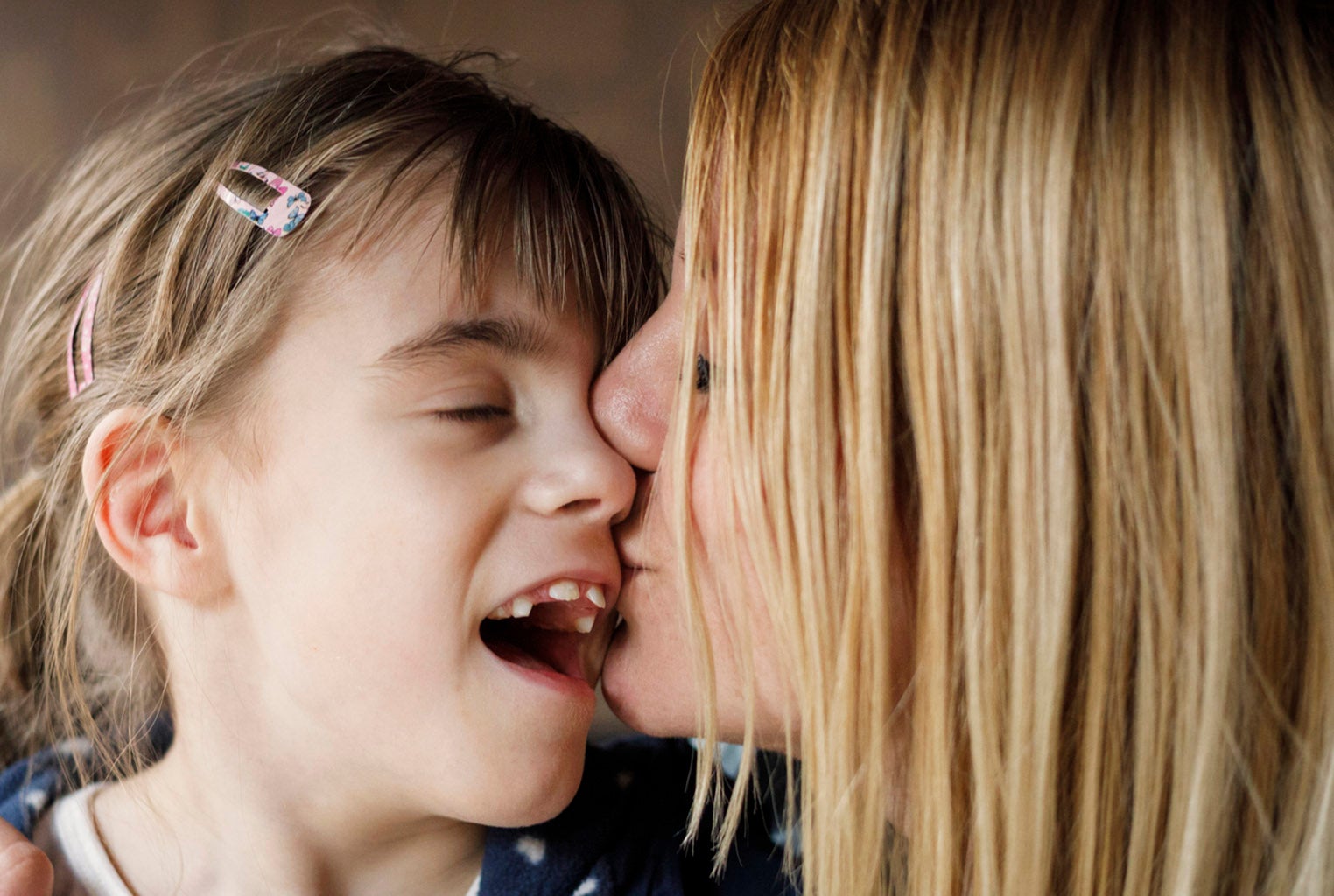 What can I do to make sure my child has everything he or she needs? This is the fundamental question on any parent's mind, and when it comes to taking care of a child with neurological disorders, this question becomes more and more complex. Ensuring your child's nutritional needs are met is not always easy, but with adequate help and support, it is possible.
Your healthcare professional will closely assess your child's nutritional health status and requirements and based on that will recommend an adapted nutritional solution and, potentially, specific means of feeding.





At Nestlé Health Science, we develop nutritional therapies adapted to meet the needs of young patients suffering from neurological disorders, from oral nutritional supplements to tube feeding solutions.
Get to know more about our different tailored medical nutrition products range: Nutren Jr, Isosource Jr, Isosource Jr mix, and Peptamen Jr.
Medical nutritional solutions must be used under medical supervision.
References:
Health Management
Health Care