When children or infants suffer from a gastrointestinal (GI) disorder or disease, adapted nutritional solutions are key
Gastrointestinal (GI) disorders in children
Your child may be suffering from gastrointestinal problems. These moments can be very stressful for you and your family. That is why we want to provide you with some helpful information for better communicating with your healthcare professionals.
As a parent, you want to know more about gastrointestinal disorders or diseases and we are here to help.
What is a gastrointestinal disorder?
The term 'gastrointestinal' may sound a bit complicated. This is nothing more than another way to refer to the whole digestive system.
The digestive system is made up of the GI tract (mouth, oesophagus, stomach, small intestine, large intestine, and anus) and the liver, pancreas, and gallbladder.
Therefore, when sometimes a child's stomach and/or intestines weaken or malfunction, we talk about a GI disorder or GI problem. The term 'disorder' does not necessarily indicate that a disease is present or that the child is sick.
GI problems are often temporary and can be part of a normal maturation process. Within the first 6 months of life, 55% of infants suffer from digestive problems, such as regurgitation, colic, constipation, vomiting and diarrhoea.1,2
Severe conditions are rare. In such a case, they are frequently associated with or classified as diseases.
For example, the GI disorder may be due to a specific GI disease, such as Crohn's disease, or to another health condition, such as cerebral palsy.3-7
GI disorders can affect different parts of the GI tract, mainly gastric or intestinal routes.
Depending on the cause, severity and chronicity, a GI disorder can alter food absorption and/or digestion, therefore affecting the overall nutritional status and health of the child.

What are common symptoms of a gastrointestinal disorder in children?
Various symptoms are related to GI problems. It is never easy to feel helpless when your child suffers from pain.
Some symptoms such as colic, minor reflux or regurgitation can be a source of stress and concern. Often there is no reason to worry about. Children overcome these symptoms, and no serious GI disorder is the cause. These symptoms are just the consequence of your child's digestive system development. They resolve, as your child's digestive system is getting stronger. However, even less serious GI problems may require intervention, and most children get better once put on an adapted formula.
On the other hand, symptoms of a GI disorder are usually much more severe and chronic. They include gastro-oesophageal reflux (GORD), acute or chronic diarrhoea, recurrent constipation and vomiting.8,9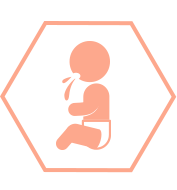 gord
Diarrhoea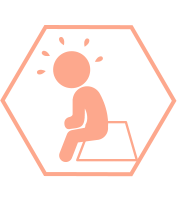 Constipation

Vomiting
Diagnosis of GI disorders can be tricky. GI symptoms are very common in infant and young children, and are often associated with a variety of other disorders.
In any case, keep track of any symptom and report to your healthcare professional. He will be able to properly diagnose and treat GI disorders and diseases, or even tell you it's nothing serious!
What are the consequences of gastrointestinal disorders on children?
Children who suffer from GI disorders have often many GI problems and complications. These complications, such as vomiting or diarrhoea, lead to nutrient malabsorption, which increases the risk of undernutrition, jeopardising children's growth and development. 8
Sometimes, GI problems are more functional, and the child is unable to feed properly. For example, swallowing disorders associated with cerebral palsy may be responsible for malnutrition.10
Because of GI disorders, the child may need to take nutritional supplements or, when unable to efficiently ingest oral food, may require tube feeding.
What are the treatments of gastrointestinal disorders and diseases in children?
Treating GI disorders and diseases in children may require a holistic approach, which means that the physical, mental and social factors in the child's condition should be considered.
Nutrition plays a key role in this approach.3,6,7,11 Your child's healthcare professional will decide on the best treatment option.
What are nutritional SUPPLEMENTATIONS for children with gastrointestinal disorders?
Your child may just get a recommendation to take a nutritional solution.
Nutritional solutions are feed preparations designed to provide the right caloric concentration and nutrient content, adapted accordingly to ensure optimal growth and development.
They are also designed to enhance nutrient absorption, usually impaired due to GI disorders or diseases.
Depending on the optimal route of feeding, the nutritional solution can be delivered orally or through a feeding tube.

Depending on the GI disease and level of impairment, your child may be recommended to either have:12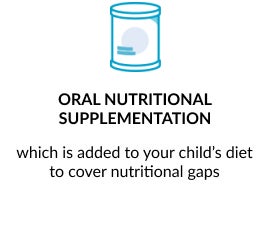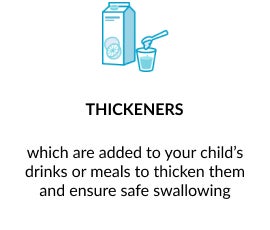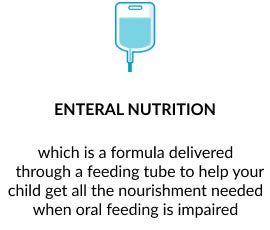 What are NHS
c

's nutritional solutions for children with gastrointestinal disorders?

At Nestlé Health Science, we are committed to providing adapted nutritional therapies tailored to the individual needs of each child. We have developed a range of different solutions to fulfil a variety of nutritional requirements, as well as an optimised taste to facilitate acceptance.

For more information on medical nutritional solutions for GI disorders and diseases, read more about the Peptamen® range, Modulen® IBD and Isosource® Jr mix.
The Nestlé Health Science range of tailor-made nutritional solutions
MEDICAL NUTRITIONAL SOLUTIONS MUST BE USED UNDER MEDICAL SUPERVISION.

References:
1. Van de Heijning BJM, et al. GI symptoms in infants are a potential target for fermented infant milk formulae: a review. Nutrients 2014; 6: 3942-67
2. Iacono G, et al. Gastrointestinal symptoms in infancy: a population-based prospective study. Dig Liver Dis 2005; 37: 432-8
3. Romano C, et al. European Society for Paediatric Gastroenterology, Hepatology and Nutrition Guidelines for the evaluation and treatment of gastrointestinal and nutritional complications in children with neurological impairment. J Pediatr Gastroenterol Nutr 2017;65(2):242-64
4. Huysentruyt K, et al. Nutritional red flags in children with cerebral palsy. Clin Nutr 2019 Mar 8. pii: S0261-5614(19)30094-9
5. Samson-Fang L1, Bell KL. Assessment of growth and nutrition in children with cerebral palsy. Eur J Clin Nutr 2013;67 Suppl 2:S5-8
6. Penagini et al. Nutrition in Pediatric Inflammatory Bowel Disease: From Etiology to Treatment. A Systematic Review. Nutrients. 2016 Jun 1;8(6). pii: E334
7. Miele E, et al. Nutrition in Pediatric Inflammatory Bowel Disease: A Position Paper on Behalf of the Porto Inflammatory Bowel Disease Group of the European Society of Pediatric Gastroenterology, Hepatology and Nutrition. J Pediatr Gastroenterol Nutr 2018;66(4):687-708
8. Blaser AR, et al. Gastrointestinal function in intensive care patients: terminology, definitions and management. Recommendations of the ESICM Working Group on Abdominal Problems Intensive Care Med 2012;38:384-94
9. López-Herce J. Gastrointestinal complications in critically ill patients: what differs between adults and children? Curr Opin Clin Nutr Metab Care 2009;12(2):180-5
10. Del Giudice et al. Gastrointestinal manifestations in children with cerebral palsy. Brain Dev 1999;21(5):307-11
11. Minor G, et al. Formula switch leads to enteral feeding tolerance improvements in children with developmental delays. Global Pediatr Health 2016;3:1-6
12. Rombeau JL, Takala J. Summary of round table conference: gut dysfunction in critical illness. Intensive Care Med 1997;23(4):476-9