BrainXpert All you need to remember​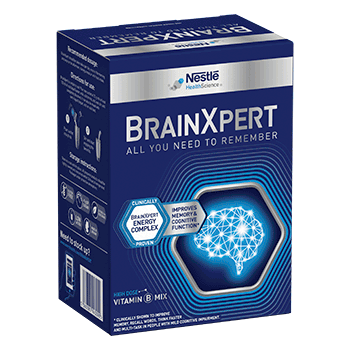 OUR WINNING DIFFERENCE​
The BrainXpert Energy Complex is a breakthrough innovation made of encapsulated Medium Chain Triglycerides (MCT) mixed with protein which has been proven to have a positive effect on memory and cognitive function and to which we have added selected B vitamins.
It provides an alternative energy to the brain. BrainXpert – All you need to remember!
Discover BrainXpert and learn more the science.​
---
BrainXpert is a Food for Special Medical Purposes for the dietary management of Mild Cognitive Impairment, to be used under medical supervision.
The BrainXpert Energy Complex has been clinically proven to tested on Mild Cognitive Impaired subjects taking twice per day for 6 month.

Flavor: neutral flavored powder
Format: 14 x 25g sachet