RESOURCE® THICKENUP® CLEAR: THE POWDER
THICKENER PREFERRED BY 8 OUT OF 10 DYSPHAGIA
SPECIALISTS
The clear solution for dysphagia management
Clinical evidence shows that dysphagia can be effectively managed to help improve swallowing symptoms. At Nestlé Health Science, we are actively developing innovative nutritional solutions to helpmanage conditions of swallowing difficulty.
Resource® ThickenUp®Clear isa prime example of an evidence-based solution1,2 which aims to make food and fluids easier to eat and safer to swallow. It has been clinically shown1,2 to improve swallowing safety in individuals with dysphagia, with good acceptance, compliance, and tolerance.specialists confirm that this unique powder thickener will help patients feel moreregular because food and drinks look more natural. This reflects our aim to provide targeted nutritional solutions to help improve the health and wellbeing of individuals.
Our product(s) and services are designed with the special needs of dysphagia in mind, to help empower patients, relatives and healthcare professionals for early diagnosis and personal care that best supports good quality of life.
1. Leonard RJet al. Effects of Bolus Rheology on Aspiration in Dysphagic Patients. J Acad Nutr Diet. 2014;114(4):590–4.

2. Rofes L et al.The effects of a xanthan gum-based thickener on the swallowing function of patients with dysphagia. Aliment Pharmacol Ther.2014 May;39(10):1169-79.

THE SCIENCE BEHIND OUR PRODUCT
To understand what is at the heart of Resource® ThickenUp® Clear, take a look at the available data we have regarding efficacy and safety in dysphagia.
Download clinical data
DISCOVER THE RANGE
The breakthrough instant food and drink thickener
for the nutritional management of dysphagia.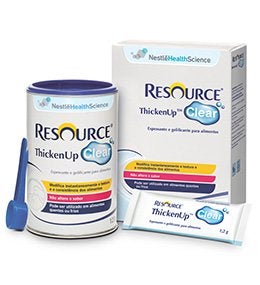 Resource ® ThickenUp® Clear
Mixes and dissolves easily Tasteless and odorless Lump-free
Learn more
ABOUT DYSPHAGIA
---

We believe breast milk is the best food for infants. When in consultation with their healthcare professional, mothers and families find that optimal breastfeeding is not possible due to their infant's medical condition, formulas for special medical purposes play a vital role in providing essential nutrients to infants. We have a global commitment to market breast-milk substitutes responsibly.


This website is about the management of cow's milk protein allergy and nutritional solutions intended for infants. By continuing on this website, you accept that Nestlé supplies the information at your own request.

Are you a healthcare professional or a parent ?