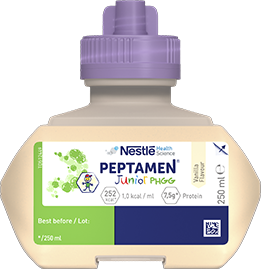 Peptamen® Junior PHGG is for children aged between 1 and 10 years old. This nutritionally complete formula is suitable for optimal digestion, absorption and tolerance of tube feeding or oral supplementation, especially addressing diarrhoea, constipation, bowel motility problems, gut pain and discomfort.
The formula contains:
peptide-based, enzymatically hydrolysed, 100% whey protein to improve feeding tolerance and gastric emptying
medium-chain triglycerides (MCTs) for an easily available source of energy
partially hydrolysed soluble fibre (guar gum, PHGG) to support the regularity of the GI function, especially in case of diarrhoea
fish oil to help modulate inflammation
Peptamen® Junior PHGG 1.0 kcal/mL is available in 250ml SmartFlex™ collapsible semi-rigid bottles for tube feeding. Also suitable for oral and bolus feeding.
---