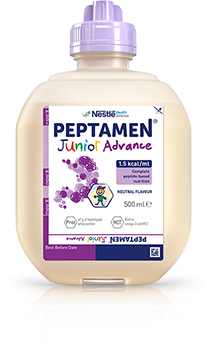 Peptamen® Junior Advance is for the nutritional needs of children aged between 1 and 10 years old with higher energy requirements such as patients with pulmonary disease, cardiovascular disease, hepatic disease, renal disease and head trauma; and children with more severe GI issues (malabsorption, dysmotility or maldigestion). This nutritionally complete formula is especially designed for those presenting volume restriction and who cannot tolerate long feeding time.
The formula contains:
peptide-based, enzymatically hydrolysed, 100% whey protein to improve feeding tolerance and gastric emptying
medium-chain triglycerides (MCTs) for an easily available source of energy
Prebio1™, a proprietary prebiotic blend (FOS and Inulin) that supports the growth of beneficial bacteria
fish oil to help modulate inflammation
Peptamen® Junior Advance 1.5 kcal/mL is available in 500ml SmartFlex collapsible semi-rigid bottles for tube feeding. Also suitable for oral and bolus feeding.
---