PEPTAMEN® JUNIOR 1.5 READY TO DRINK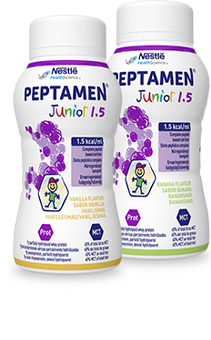 Peptamen® Junior 1.5 ready-to-drink formula is a nutritionally complete food for children with high energy needs who can be fed orally. This ONS version of Peptamen® Junior Advance is for GI-compromised children aged 1-10 years who suffer from conditions presenting volume restriction, such as cerebral palsy, cystic fibrosis, short-bowel syndrome, chronic diarrhoea or cancer.
The formula is a 100% peptide-based feed that contains:
medium-chain triglycerides (MCTs) for an easily available source of energy
Prebio1™, a proprietary blend (FOS and Inulin) that supports gut health
fish oil to help modulate inflammation
Peptamen® Junior 1.5 kcal/mL available in 200ml bottle is a drinkable complete nutritional solution with a mild hydrolysis of whey proteins not to compromise on a great taste (vanilla or banana flavor). Can be used as a sole source of nutrition.
---