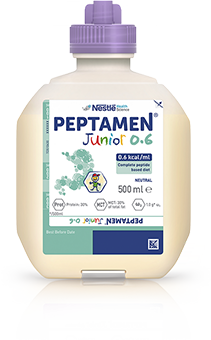 Peptamen® Junior 0.6 is for GI-compromised children who have reduced energy requirements and low mobility such as those with cerebral palsy, traumatic brain injury, spinal cord injuries or ventilator dependence with low mobility. This nutritionally complete formula provides the appropriate calorie levels to avoid over-feeding while maintaining optimal growth as well as body composition.
The formula contains:
peptide-based, enzymatically hydrolyzed, 100% whey protein to improve feeding tolerance and gastric emptying
medium-chain triglycerides (MCTs) for an easily available source of energy
a mixture of soluble and insoluble fibres (PHGG and pea fibre) to support the regularity of the GI function, especially in case of constipation
fish oil to help modulate inflammation
Peptamen® Junior 0.6 kcal/mL is available in 500ml SmartFlex™ collapsible semi-rigid bottles for tube feeding.
---