OptiFibre is a neutral taste powder that is very easy to incorporate into daily routine. It can be added to foods or beverages, warm or cold, and it does not change the taste, smell and texture of the final preparation. It is a solution with clinically proven results that acts in an effective and natural way due to its double action: laxative effect and rebalance of the intestinal flora.

OptiFibre is a prebiotic fiber with 100% vegetal origin and it is safe for long term use and with no side effects. Besides, it is free from all additives: no added sugar, no artificial sweeteners, no added flavors, no preservatives, no colorants, lactose-free, gluten-free and non-GMO.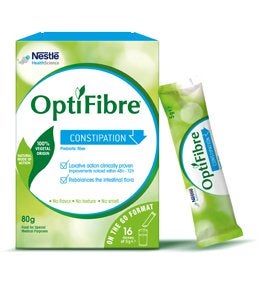 a1
WHERE IS THIS PRODUCT AVAILABLE?