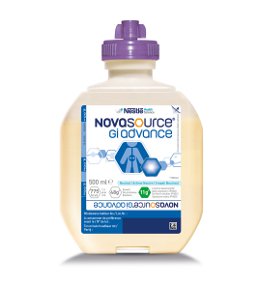 The new Novasource GI Advance is both high in calories and protein to ensure that patients achieve both protein and energy goals in the Intensive Care Setting. In addition Novasource GI Advance contains 25 % of calories from protein with a blend of casein and whey protein.
---
---
The newest member to the Novasource GI Range

The Novasource GI family (Novasource GI Control, Novasource GI Forte and Novasource GI Advance) provide nutritionally complete, polymeric balanced diets. They are appropriate for general nutrition support and for the dietary management of diarrhea in malnourished patients or those at risk of malnutrition. The products are designed to reduce the risk of diarrhea and related complications. The Novasource GI family contains 22 g /L of partially hydrolyzed guar gum, a soluble fiber supported by strong clinical evidence in the management of diarrhea in tube feed patients. The other Novasource GI products are available either in isocaloric (Novasource GI Control) high-caloric (Novasource GI Forte) form, enabling them to meet the demands of patients with different nutritional needs or fluid restrictions.