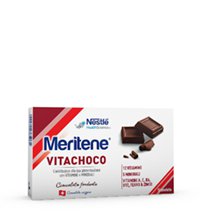 Meritene Vitachoco
contains 12 Vitamins and 5 Minerals and is an innovative way to benefit your overall health.
Rich in 12 Vitamins
Source of 5 Minerals
Swiss chocolate
It is a great tasting food supplement that contains a special blend of 12 Vitamins and 5 Minerals: Vitamins A, C, B6, B12 Iron and Zinc help to maintain normal immune system function.  
Only 2 tablets deliver:
more than 80% of the EU NRV - your daily need - for Vitamins A, D, B1, B2, B6
more than 50% of the EU NRV - your daily need - or Vitamins C and E
more than 25% of the EU NRV - your daily need - for Iron, Phosphorus and Zinc
AVAILABLE IN GREAT-TASTING MILK CHOCOLATE OR DARK CHOCOLATE MERITENE VITACHOCO SPECIFICALLY OFFERS:
Vitamins A, C, B6, B12 to contribute to normal immune function
Iron to contribute to the reduction of tiredness and fatigue
Zinc to help protect cells from oxidative stress
---
---
MERITENE® is a range of scientifically-formulated nutritional solutions designed especially to address the needs of healthy agers. Our products are appreciated by those who are 50+ who take a proactive approach to managing their health. They are busy and want a little help to stay at their best physically and mentally.
Each MERITENE® delivers a selected blend of one or more nutrients such as high quality protein, essential vitamins and minerals, antioxidants and dietary fibre.
Discover our range and the products that may meet your needs.