MERITENE® VITAMIN D + SPRAY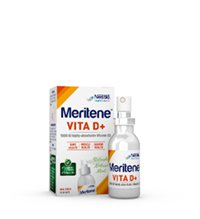 MERITENE® Vita D+ Spray is an innovative Vitamin D spray from Nestlé Health Science to help you to get your daily essential vitamin D.
Just 3 sprays deliver 1000 International Unit (IU) of highly-absorbable vitamin D. Thanks to the patented emulsion, Vitamin D is clinically proven to be 2x more absorbable than capsules.
Vitamin D helps to maintain normal bone, teeth, muscle function & normal function of the immune system.
Vitamin D is essential also for normal absorption of calcium & phosphorus.
Plus it has a natural breath refreshing effect, sugar free & less than 1 kcal / dose.
---
---
MERITENE® is a range of scientifically-formulated nutritional solutions designed especially to address the needs of healthy agers. Our products are appreciated by those who are 50+ who take a proactive approach to managing their health. They are busy and want a little help to stay at their best physically and mentally.
Each MERITENE® delivers a selected blend of one or more nutrients such as high quality protein, essential vitamins and minerals, antioxidants and dietary fibre.
Discover our range and the products that may meet your needs.