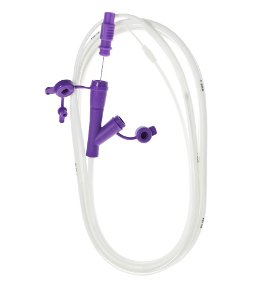 The Compat® StayPut 9/18FR EN is a dual lumen jejunal feeding tube with integrated gastric drainage tube. It is intended for use in critically ill patients who require early enteral administration of nutrition, fluids or medication in the small intestine and simultaneous gastric drainage, through one nostril.  

- Sterile, guidewire, antenna tip for aid in placement, ENLock feeding connection, suction port for drainage. Medication syringe access via cap.
---
THE COMPAT® RANGE OF MEDICAL DEVICES.
The Compat® range of medical devices includes enteral feeding pumps and gravity administration sets, enteral access feeding tubes and a variety of accessories for both adult and pediatric patient populations.