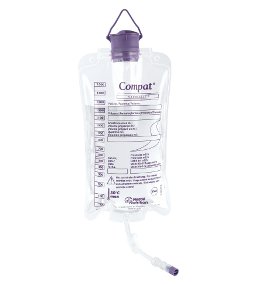 The Compat® Flexibaggle® 1.5L reservoir with ENPlus port is intended for the administration of enteral nutrition and/or water to patient. The Compat® Flexibaggle® 1.5L offers a convenient open system features a built in hanger and screw cap. The large top-fill opening allows to refill the bag with nutrition or water without stopping the feeding program, or removing the reservoir from the hanger. DEHP-Free.
---
THE COMPAT® FLEXIBAGGLE® RANGE OF MEDICAL DEVICES.
Compat® Flexibaggle® is a convenient range of open system reservoirs from 0.5 to 1.5L with features to meet both ambulatory and stationary needs.