Choosing the right type of formula for your patients with food allergies or intolerances can be challenging.
Nestlé Health Science has developed a simple Food Allergy and Intolerance Management Decision Tree that will help you easily link your patient's symptoms with their condition in order to select the most appropriate nutritional solution, be it Althéra, Alfaré or Alfamino.
This Food Allergy and Intolerance Management Decision Tree helps you to individualize your options so that you feel confident you are offering the right product to your patient at the right time.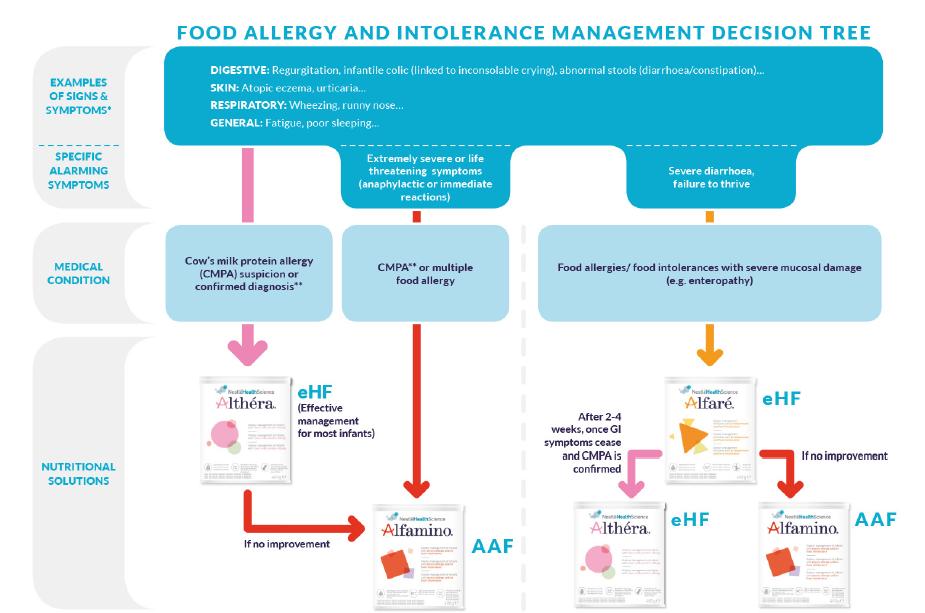 *For more information refer to signs and symptoms section.
** Diagnosis confirmed in line with ESPGHAN guidelines.
To be adapted based on local specificities.
IMPORTANT NOTICE : Mothers should be encouraged to continue breast-feeding while avoiding all milk and milk products from their own diet. This usually requires qualified dietary counseling to completely exclude hidden sources of cow's milk protein. If a decision to use a special formula intended for infants is taken, it is important to give instructions on correct preparation methods, emphasising that unboiled water, unsterilised bottles or incorrect dilution can all lead to illness. Formula for special medical purposes intended for infants must be used under medical supervision.